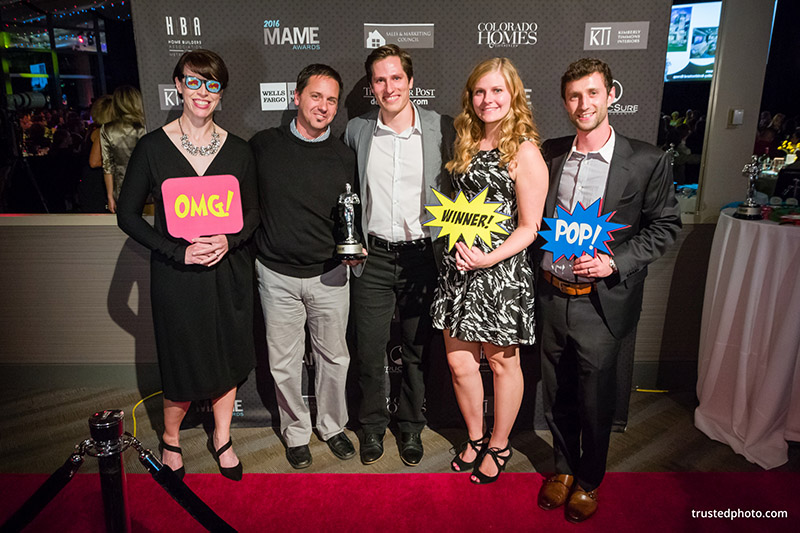 Posted on October 10th, 2016 under
News
Art + Business ONE has been a longtime member of the Home Builders Association, and our team was proud to gather with several industry clients to celebrate the successes of the past year at the 2016 Denver MAME Awards.
We were also honored to receive two awards for our work on behalf of two clients: Brookfield Residential and Sterling Ranch Development Company. These accolades are representative of our holistic approach to brand manifestation, with skillfully implemented projects like these supporting the overarching brands. We thought you might like to see the thinking that goes into our work. Here are highlights from our award-winning projects:
Best Logo Design: Barefoot Lakes

Throughout 2016, we have had the pleasure of working with Brookfield Residential on its newest community, Barefoot Lakes. When creating the community's logo design, we sought to express the opportunity to live tucked away in nature, while feeling connected to Denver and northern Colorado with convenient access to I-25.
The strong yet simple font utilized in the brand identity alludes to the rustic appeal of the location in Firestone, Colorado. Overlaid triangles combine to form shapes reminiscent of nautical flags, visually suggesting the community's connection to water and the two lakes that inspired its moniker. In addition, the shapes resemble quilting squares, paying homage to the Colorado-chic, authentic nature of the community. Bright colors draw attention and communicate the youthful energy inherent in life at Barefoot Lakes.
The simplicity of the brand identity ensures graphic continuity in a variety of contexts, including pairings with natural materials. It's a laidback invitation for homebuyers to start their journey and explore in a place that is #AStepAhead.
Best Website for a Community: Sterling Ranch
For the second consecutive year, Sterling Ranch was recognized for its comprehensive, easily navigable website.
What makes this website stand out? The online experience underscores the premise of the community – innovation and conservation living together in harmony. Showcasing the land's beauty on the homepage, visitors are immediately immersed in the vision for an environmentally friendly, forward-thinking community. Intuitive icons radiate from the brand identity, allowing visitors of all ages and levels of tech savvy to explore the community's value pillars: Homes, Safety, Technology, Education, Energy, Water, Outdoors and more.
Beyond providing information, a primary objective of the website is to transform visitors into homebuyers through engagement and cultivation. An "I Want to Know More" graphic on each page invites visitors to share their contact information and sign up for email updates. We also recently launched the Sterling Ranch Forum, allowing interested visitors to express their perceptions on relevant community topics and become engaged in the future of Sterling Ranch.
And of course, the website is functional on various platforms and devices. As the community progresses to welcoming its first residents, the online experience is positioned for continued evolution.
We are grateful to work with clients who embrace our integrated approach to branding. It's how we do our best thinking and it empowers us to deliver award-winning results.