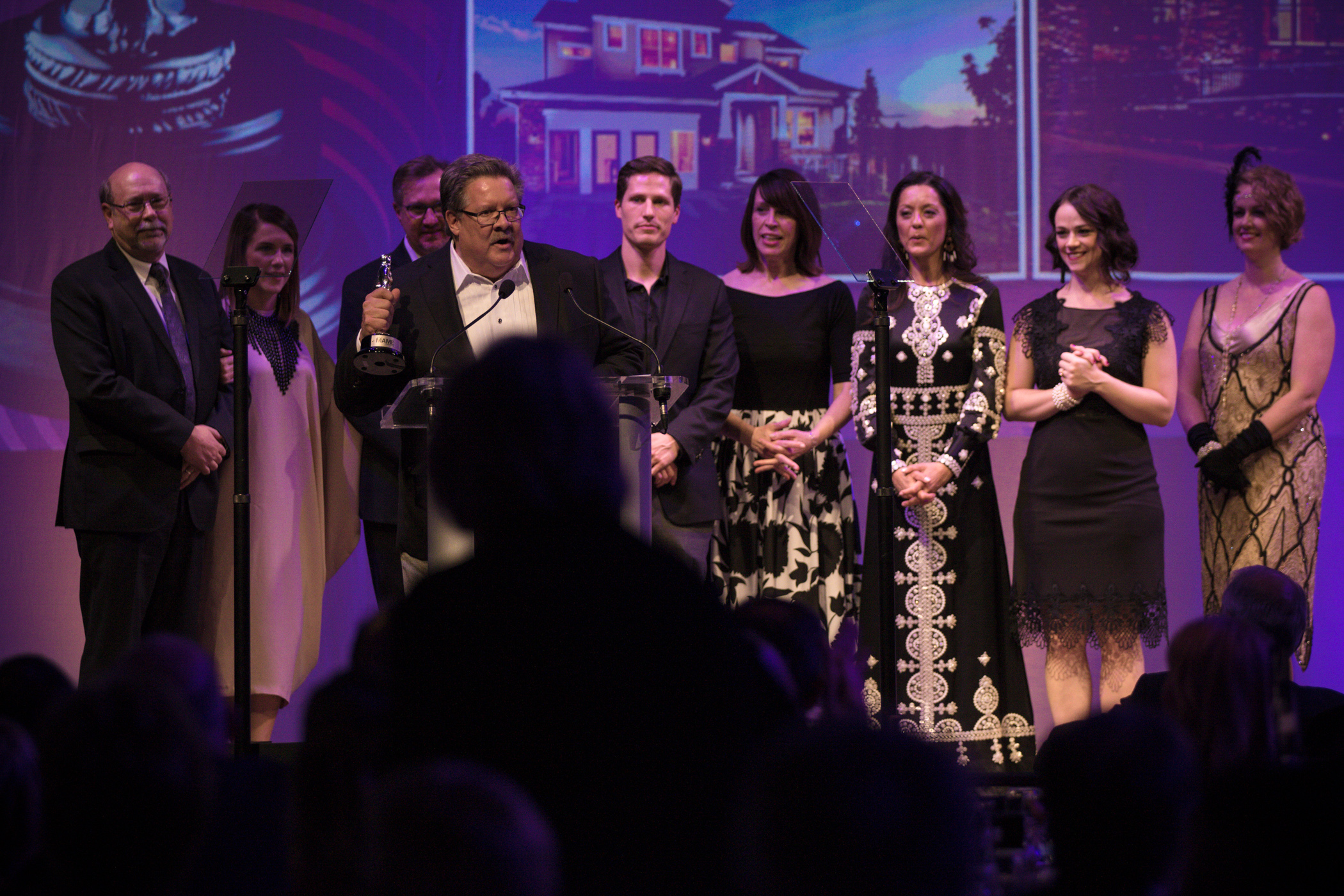 Posted on November 20th, 2017 under
News
2017 MAME AWARDS: 3 AWARDS, 1 COMMUNITY OF THE YEAR
Every year, just before the holidays, the best of the best put their very best to the test to take home as many MAME awards as possible. Or, they compete for the award that means the most for brand and storytelling firms like us: Community of the Year Award.
Art + Business ONE (A+B1) is pleased to announce that Green Gables Reserve won 2017 Community of the Year.
The MAME awards, short for "Marketing and Merchandising Excellence," bring together marketers, homebuilders, realtors, salespeople, designers and architects in the homebuilding industry from across the state to compete. Award categories range from best model home interior design to best community amenity feature to the treasured Community of the Year, which comes as a result of taking top scores in a number of categories.
We are honored to win this exceptional award for an extraordinary community. Yet this award comes with years of work. We began our efforts with the division president of what was then Ryland Homes, now CalAtlantic Homes after the merger between Ryland and Standard Pacific, in late 2014 to define the vision of the community.
After touring the property and understanding the legacy of the land – the old Green Gables Country Club – the brand development process began.
However, it was our efforts aligned with our partnerships that truly realized Green Gables Reserve. We worked hand-in-hand with PCS, Inc, the landscape architects and land planning firm chosen for this project. It was like a game of pong – sharing concepts and pushing each other further to infuse the community brand into every experience, every structure, and every stone. Other partners included Trio Environments and their beautifully integrated, brand-aligned interior design for the community center – Legacy Center.
To win Community of the Year, a new home community is judged on its brochure, print ad(s), digital marketing campaign, information center, interior merchandising of a model home and architectural design.
Although we are proud of the Green Gables Reserve community brand, we are especially invigorated by the effectiveness of marketing and cultivation strategies employed. One example is the co-creation cultivation strategy that, with minimal costs for on-site promotional banners/billboards, created a database of interested prospects amounting to quadruple the amount of homes to be built. In other words, we cultivated a database of nearly 2,000 prospects for this nearly 500-home community before vertical construction started. Read more about the Green Gables Reserve Forum and co-creation strategies in our other blog post, Enhancing Customer Satisfaction by Asking Questions and Showing Results.
Winning Community of the Year is a triumph for CalAtlantic Homes, the developer and homebuilder of Green Gables Reserve. It is a significant community design and home building initiative for CalAtlantic, and the company's stand-out project as both a developer and homebuilder.
For A+B1, it is a showcase of effective brand-aligned design and governance. More importantly for A+B1, though, is this demonstration of innovative marketing strategies completed efficiently and impactfully.
Other awards won by A+B1 at the 2017 MAME Awards:
Barefoot Lakes Community Brochure
Barefoot Lakes Community Amenity Feature
Green Gables Reserve Community of the Year